GAMMONS GULCH
A young boy, dressed in white, walks along a dusty street beating a drum while leading a funeral procession. Dean Martin watches from the sidelines trying desperately to recover from a blinding hangover so he can resume his role as town sheriff. The year is 1959, the setting a scene from Howard Hawks western masterpiece "Rio Bravo" which starred John Wayne and Dean Martin.
The young boy was one Jay Gammons. His father, a former police chief from Tombstone, was acting as John Wayne's personal bodyguard and security advisor when he was in Arizona making the movie. Jay was roped in as an extra to play the young boy. He was paid $15 a day for three days, a princely sum for a 9 year old who was the envy of his friends. Some of the movie was shot in Old Tuscan Studios, a purpose built Wild West movie town in Arizona. Jay fell in love with the era and had a dream……….. to acquire his own ghost town. Now ghost towns are not readily available on the open market so he decided to build his own!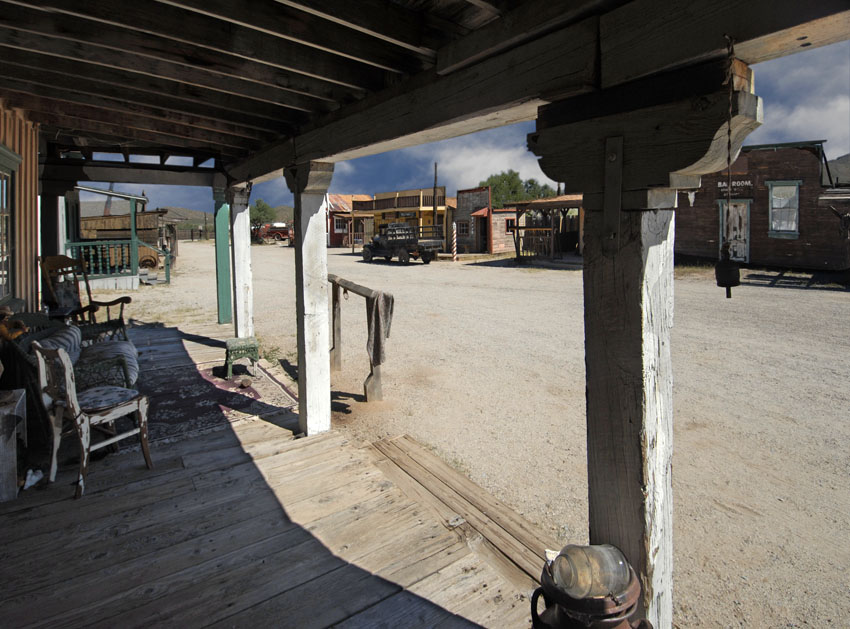 Gammons Gulch
In the early 1970's he was driving, with a companion, just north of Benson, Arizona, in the High Desert of Cochise County, and got his eye on an ideal piece of land. Turning to his companion, in a state of excitement, he proclaimed "wouldn't that be a great place to build a ghost town" To say her enthusiasm was not as great as Jay's was somewhat of an understatement, her reply was short and sharp "you must be mad" Undeterred Jay bought the 10 acre site for $5000 and set about building his town.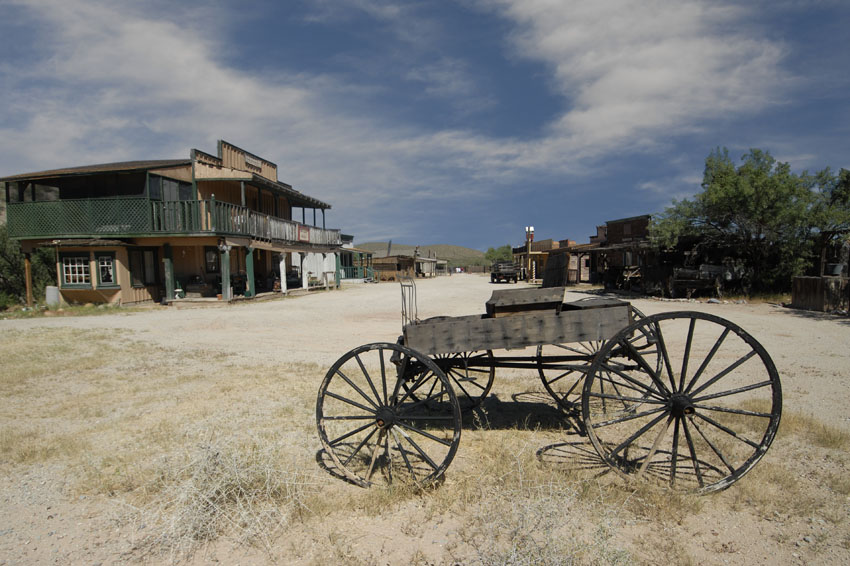 Gammons Gulch - Main Street
Initially it was very hard work and his accommodation rather basic. Slowly but surely the town started to take shape. Jay has spent the past 36 years travelling all over the country collecting items for the town. They range from a complete 1882 building transported piece by piece from Safford, Arizona to genuine antiques. The bar in the saloon, made from rich mahogany, originated from England, but in 1876 somehow found its way to Jerome before being eventually "salvaged" by Jay. In his own words "I am not a junk collector but a salvage engineer………you won't find any rubber tomahawks or Wild West tee shirts here."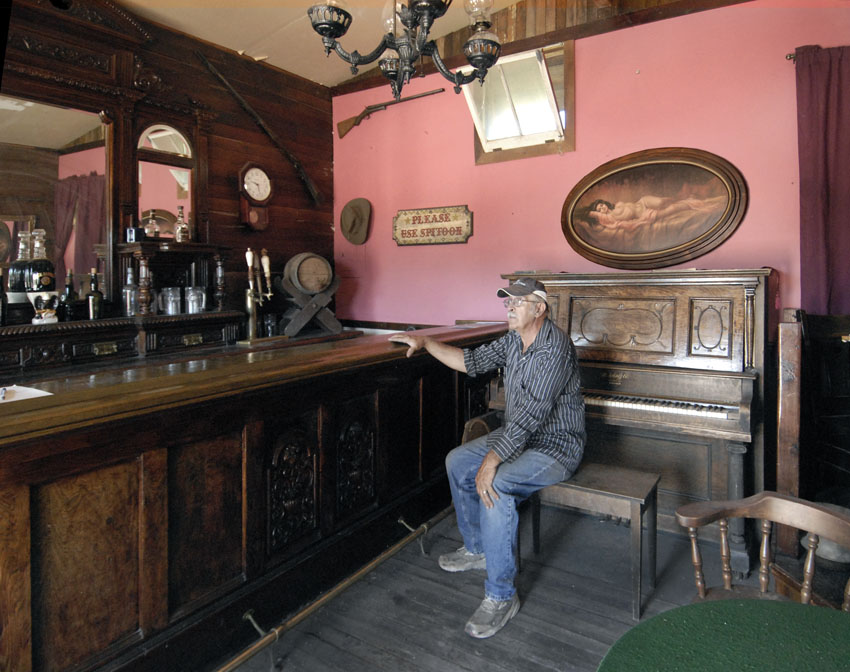 Jay in the Saloon
With help from friends and donations of artefacts an extremely impressive town has been constructed. It is set in a time between the 1880's and the early 1930's. In 1994 with his wife Joanne's help Gammons Gulch was opened to the public for tours, movie shoots, weddings and other special events. It has been used as the setting for many western movies, six in the last year alone. Artefacts have been loaned to movies such as "Tombstone", "The Quick and the Dead" and "Desperado."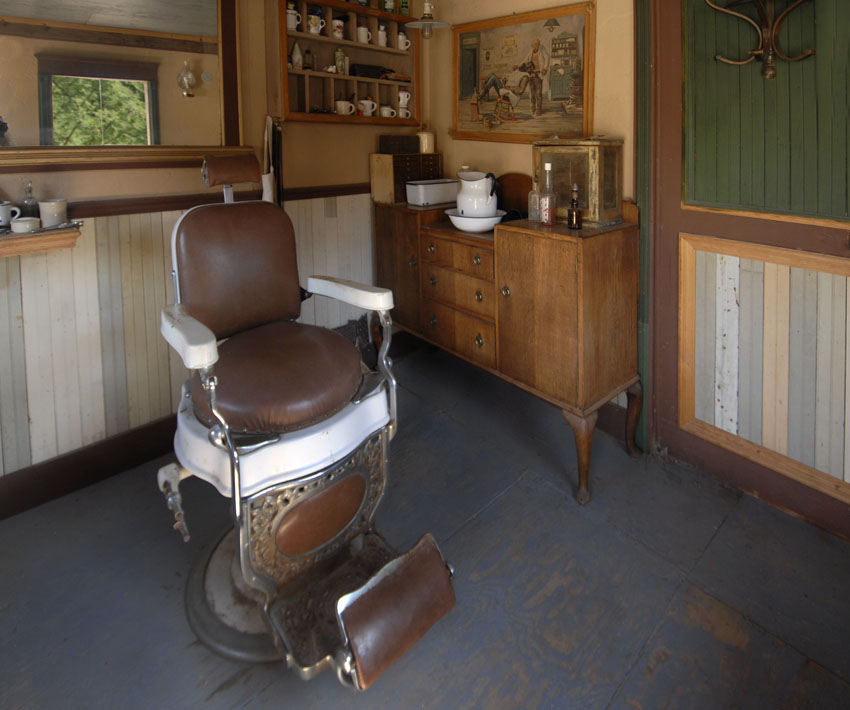 Barber's Shop
Amongst the fully fitted buildings are a saloon, barbers shop, general store, blacksmiths, telegraph office, gas station and jail. One film crew complained that there was no telegraph cable attached to the insulator at the telegraph office. Within 15 minutes Joanne had lost a washing line which Jay sprayed black and fitted to the insulator. The telegraph office was up and working and the movie crew were happy!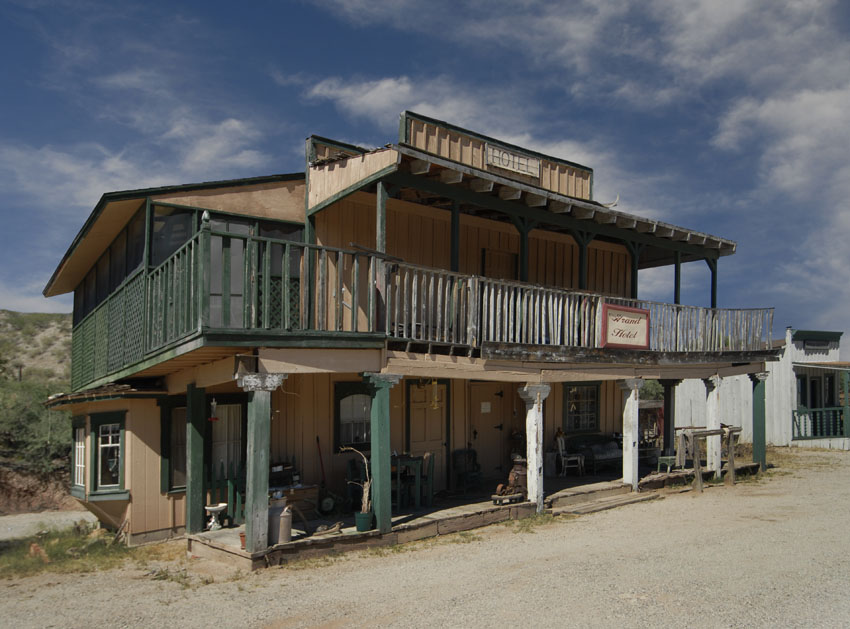 Grand Hotel
Every part of the town is impressive including the Grand Hotel where Jay and Joanne live. Every building, for there are no prop cut out store fronts in Gammons Gulch, is crammed with authentic items about which Jay will willingly relate fascinating stories during his personal tour. One of my favourites concerns a radio, in working condition, donated by a supporter. When the back was removed it contained a label showing it to be the property of Rex Allen, one of the original movie cowboys.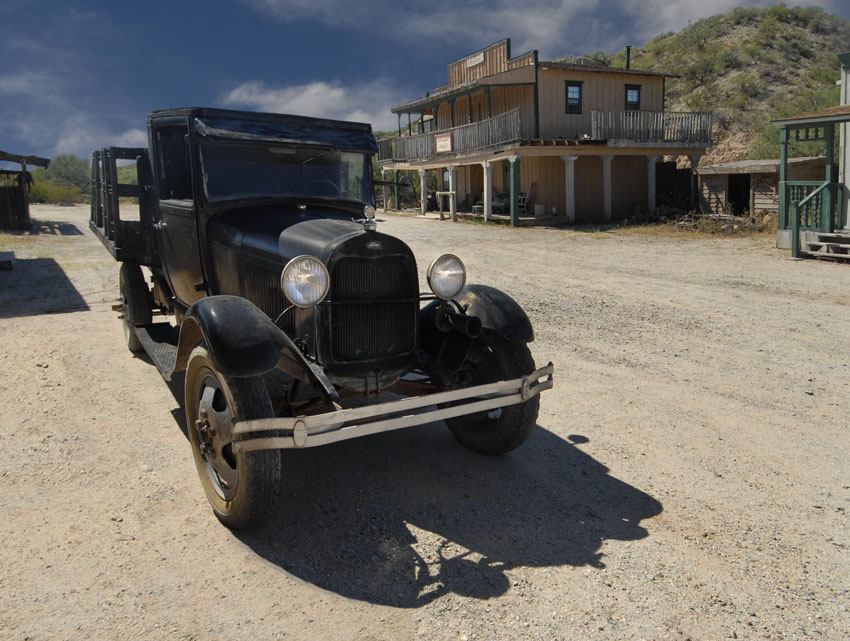 Ford Wagon
His other great love is classic cars, of which a good number, many in working order are parked around the site. One a Buick, purchased in Bisbee in 1931 was willed to Jay when its owner died in 1983. Another impressive vehicle is a 1955 Ward LaFrance fire engine.
However pride of place will go to a Silver Fox Rolls Royce his latest dream……..and I wouldn't bet against him getting one.
Gammons Gulch is part Ghost Town, part movie set and full time home to Jay and his wife Joanne. It is a ghost town which is growing with new buildings planned. A visitor gets the impression and feeling of being transported to a different time and place. Rather like a time machine……it is without doubt a real experience and should not be missed by anyone visiting the area.
Because it a working town and may be closed for filming it's best to contact Jay before arriving. He has a website: www.gammonsgulch.com or telephone him, on 520 21 2831.
The town is open, Wednesday to Sunday, from September through to May.