THE ROYAL PHOTOGRAPHIC SOCIETY'S LICENTIATESHIP
The Royal Photographic Society Distinctions are recognised as some of the most prestigious in the photographic world. Licentiateship, the first level, is where the majority begin their quest for a Distinction, with the submission of a panel of 10 prints, transparencies or digital files for assessment.
Assessment criteria for all levels of Distinction are documented in the new Distinctions Handbook, which can be viewed on the Society's website www.rps.org or a copy obtained by contacting the Distinctions Department. If you're anything like me, when all else fails and as a last resort, you read the instructions! But I would highly recommend anyone applying for a Distinction to carefully study the relevant section of the handbook at the outset. The criteria outlined are concise and unambiguous and directly in line with the system employed by the RPS panel members and Chairmen in their assessments.
Four Stage Process
Photography is a classic combination of art and science, entailing a four stage process of Seeing, Taking, Making and Presenting, with technique being applied at every stage.
The "Seeing" stage involves imagination and creativity, what used to be called an eye for a picture, along with an appreciation of lighting.
In the "Taking" stage all aspects of camera craft come into play. A sound understanding of the camera controls of aperture and shutter speed to produce an exposure and depth of field appropriate for the subject is essential; as is lighting, that evanescent entity which can change a reasonable picture into a great one.
The "Making" stage, once restricted to the production of darkroom prints and art work on transparencies, now has virtually endless possibilities through digital imaging software. Don't underestimate the creative potential of this stage. I am not only referring to the creation of psychedelic "masterpieces" but the subtle adjustments of tone and sharpness which can make all the difference.
"Presentation" is the final stage in the process and an opportunity through choice of image size and, in the case of prints, mounting, to really enhance the appearance of the submission.
In a nutshell the four stages comprise what we would all look for in any picture or sequence and the Licentiateship Panel is no exception.
Image Quality
Describing quality in an image is difficult to put into words but instantly recognisable when it is seen. Generally, a full tonal range with highlights and shadows well recorded is a good starting point. That said high and low key images which rely on a limited total range can be acceptable and quite stunning.
Accurate colour management to produce true colours is also essential, along with appropriate contrast and sharpness. Be very careful with the latter, over-sharpening is one of the great curses of digital imaging producing pixel and artefact problems and giving images an unreal look.
Personal Input
As often as it is mentioned, personal input to pictures is very important. It is an opportunity to show imagination and creativity. It can perhaps best be described as seeing rather than just looking; then making a selection, using the tools and techniques at your disposal, to eliminate distractions in order to let your subject dominate the picture. The resulting image will then be your picture, your interpretation and not simply a snapshot.
Variety
Variety, not necessarily of subject but of approach, technique and lighting is the key to success. One of the main areas for non recommendation is repetition. If images, no matter how good they are, display the same subject matter, technique and lighting they are the same picture.
Monochrome and Colour
Mixing monochrome and colour prints in a submission is acceptable, providing that you have given careful consideration to why you would wish to do so. There are no rights or wrongs here, but ensure that if an image has been converted to monochrome, value has been added and you are not just presenting a colour image with its colour removed.
Prints and Mounts
Cutting and mounting must be immaculate. The colour of mounts needs careful consideration. Although this can be a very personal thing it's best to avoid coloured mounts which clash with the images, and to present all the images on the same colour.
Don't be tempted to submit a set of old prints on mismatched mounts. It's far better to reprint them all on the same paper. There is an ever increasing portfolio of superb papers on the market from which to make a selection. Regardless of the actual size of the prints I would recommend mounting them on 20x16 inch or 50x40 cm mounts of a neutral colour.
Submissions on a CD
It is becoming increasingly popular to submit images on a CD. If you intend to follow this route it is essential that your monitor is correctly calibrated. That way you will ensure that what you see on your monitor at home, in terms of luminosity and colour will be seen by the panel of assessors at Bath. At the present time CD submissions are only assessed at RPS HQ Bath where the digital projector is accurately calibrated and maintained.
Images must be in RGB mode (even for monochrome images) and in sRGB colour space. The image size must be no larger than 1400 pixels wide and up to 1050 pixels high. Files must be saved in uncompressed TIFF format as a single layer and with no alpha channels.
The file names must be two digit numbers: 01, 02, 03…to 10 so that the files sort for projection in the required order.
All the image files must be placed in one folder named "Evidence" or you can use your name. A text file containing your name and address must be included in the same folder.
This folder should be written as the only contents of a CD-R disk (not DVD or CD-RW). The disc should be labelled with your name.
Great care should be taken when preparing images for projection. It's best to think of them as digital transparencies where highlight and shadow detail, colour and contrast are all important considerations. Think carefully before adding borders and titles they can be viewed as irrelevant distractions. A frame filling high quality image is far more impressive than one with "fancy" border and titles.
Although monochrome projected images can be included in a submission I believe that monochrome is better presented as prints. In fine printing terms the paper surface plays an important role in the presentation of the image. It is difficult for a projected monochrome image to achieve that level of presentation.
…………………………………
Let us look at two successful Licentiateship panels where the photographers have applied totally different approaches.
<![if !vml]>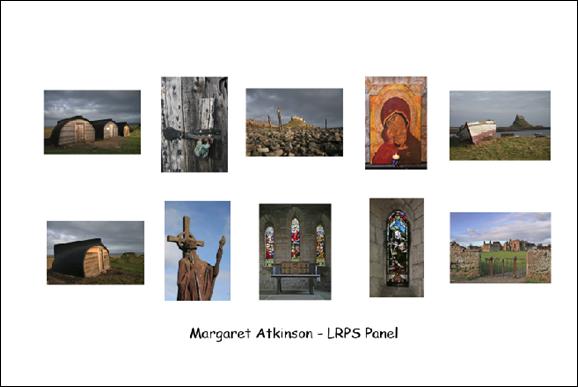 <![endif]>
Margaret had recently joined the RPS when, in January 2007, she visited Lindisfarne, or Holy Island as it is better known, in Northumberland. Very busy in high season, in the winter it is virtually deserted and with the right light is a magical place for photography. Margaret was lucky. The lighting was superb and she was delighted with her results. A further visit a week or so later was equally rewarding and after attending a Distinctions workshop, she decided to submit her work for Licentiateship assessment.
In order to show a range of photographic skills, she included a variety of images, from landscapes to still life and church interiors.
<![if !vml]>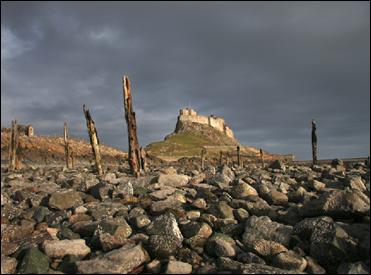 <![endif]>
Lindisfarne Castle
Every image was painstakingly prepared and printed on a good quality fine art paper and mounted on white mounting boards. The image of Lindisfarne Castle shows good composition using a wide angle lens and low viewpoint with a small aperture to produce a large depth of field from foreground through to the background. The lighting was perfect for the subject.
<![if !vml]>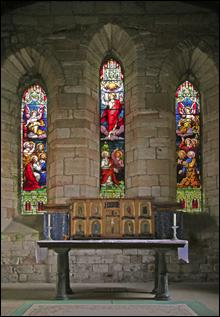 <![endif]>
St Mary the Virgin - Interior
The altar and stained glass windows of the interior of the Church of St Mary the Virgin were recorded using a tripod and a slow shutter speed. This image shows, amongst other things, an understanding of low light photography and the knowledge how to exposure correctly under tricky conditions.
Overall the panel showed that the photographer had a good understanding of composition and lighting, sound camera craft skills and the ability to produce very good prints.
.....................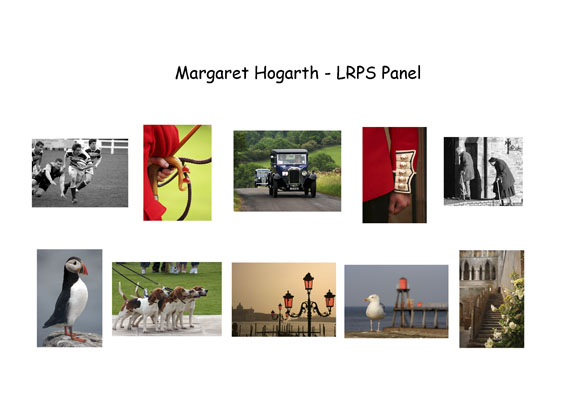 <![if !mso]><![endif]>




When Margaret decided to apply for a Licentiateship she already had a portfolio of images but needed others to add greater variety to her submission, so she embarked on still life and street photography mini projects.

Setting yourself a project can be a very powerful way of obtaining images. The time and place may not be far from your home but it is important to have a clear objective in mind.. The secret is the defined objective…. "I will visit this location and aim to capture x number of images of such and such a subject." Give it a try. You will be surprised with the results.

When the final selection had been made she experimented with a variety of papers before deciding on a textured matt surface which displayed the images at their best. Proof prints were produced and subtle adjustments, to enhance luminosity and colour, were made to the image files before final printing.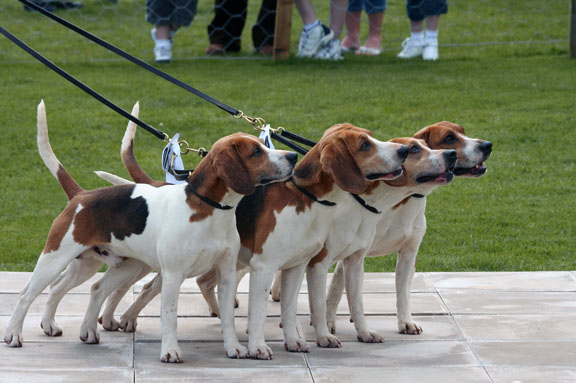 Four Dogs
"Four Dogs" shows excellent "seeing" and composition along with good camera craft skills. It is clear that this type of image doesn't just happen but requires a high level of personal input by the photographer.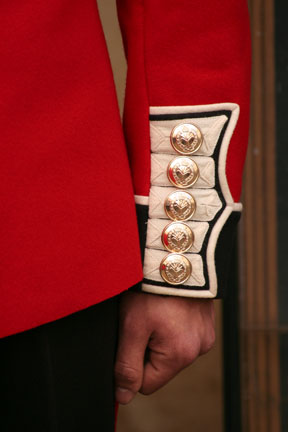 Red Coat

"Red Coat" is another superb piece of personal selection, the soft lighting allowed fine detail and texture to be recorded. The tight cropping showed a thinking photographer at work.

Overall the panel shows a high level of competence in a number of branches of photography, and an excellent eye for still life compositions and image design. The prints oozed quality and luminosity which reflected Margaret's printing and presentation skills.

Final Check

As a final check take each image in turn and ask yourself: what technique or skill am I demonstrating with this image? What does it communicate to the viewer? While it may well communicate different things to different people, the important thing is that it should communicate something.

Seek Advice

Looking at potential reasons for failure is a good way of putting things in place to avoid this happening. The main reason for non recommendation or failure of submissions is candidates not seeking advice before submitting work. I cannot over emphasise the importance of attending a Distinction Advisory Day, either as an observer or with a prospective panel submission. It's an opportunity to see at first hand the standard required and get feedback on you own work from Panel members.

The standard required for the Licentiateship distinction is high, but achievable. The Distinctions Department and Licentiateship Panel members are more than willing to offer whatever guidance is necessary to help you towards gaining your LRPS.

<![if !mso]><![endif]>

Key Pointers

* Read the Distinctions Handbook

* Attend a Distinctions Advisory Day

* Show variety of approach and technique

* Avoid repetition of images and techniques

* Ask yourself does the panel meet the defined criteria

Leo Palmer FRPS